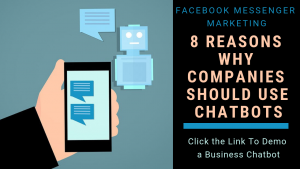 Interested in Facebook Messenger Marketing? Watch this Video to learn why companies should use Chatbots…
Prefer to read the Transcript? Read below…
In this Video I'm going to share with you 8 reasons why companies should use Chatbots and Facebook Messenger Marketing in your business?
The Messenger Platform connects you to over 1.3 billion people each Month. No matter what you sell I guarantee your customers are on Messenger. There are over 2 Billion messages between people and businesses each month including both automated and people-initiated. 53% of people who message businesses say they are more likely to shop with a business they can message. Currently, there are a 100,000 monthly active bots on the Messenger platform and counting.
Email is crowded. I mean how many promotional messages are you getting per day that you have become numb to reading them.
People are tired of "optin" on a landing page. And, if they do, they may never engage with you in email.
Opting into messenger is WAY easier than email. You literally click a button.
Using Messenger is easier for you to build a list. It's super simple to get real data like their real name, telephone number, etc. because it is populated by Facebook as oppose to completing a form where they have to type in text.
Running Facebook Ads is less expensive when you are staying in the Facebook ecosystem.
Messenger is instantaneous…the customer journey can progress faster than it can by using email.
Industry Average Email open rates today are around 20% and the click through rates are 3%. Contrast that with the average Messenger open rates which are over 80% and the click through rates are trending at 38%. You have to admit Messenger is beating Email out when it comes to getting a prospect or customer's attention. While Email is on the decline, Messenger Marketing is growing!
If you're interested in learning how to use Messenger Marketing to grow your customer base, automate your customer service and to scale your business, give us a call or click one of the Chatbot Niche demos below to see how to use messenger for business.
Facebook Messenger Marketing: 8 Reasons Why Companies Should Use Chatbots