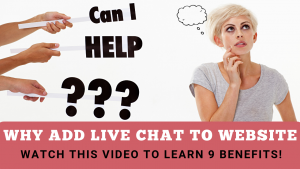 Why Add Live Chat To Website? If you run a business adding live chat to your website is an easy decision. Watch this video to learn 9 benefits.
Demo a business chatbot and sign up for a FREE Chatbot trial today!
Prefer to read the transcript? See below…
In this video I'm going to share with you why you should add live chat to your website.
If you run a business adding live chat to your website is an easy decision.
This small window that appears at the bottom of your website is a powerful tool in your marketing arsenal as it allows your visitors the ability to chat with you in real time.
Here are the benefits of having and using a live chat on your website.
Live chat emphasizes your Open For Business and ready to serve.
Live chat encourges your visitors to interact with you.
Live chat helps you capture new leads.
Live chat is inexpensive and very efficient. You can actually chat with multiple people at once, something that is very difficult to juggle using the phone.
Live chat is Mobile Friendly so no need to worry about not being device supported.
Live chat can be used to on-board new clients or even staff.
Live chat encourages sales and support in that you can automate FAQs.
Live chat can be used to split conversations with different divisions in a company. For example, visitors interested in purchasing a product and service can be routed to a sales person while existing customers can be directed to the support team.
Live chat provides you with the ability to identify opportunities and challenges by reviewing transcripts.
Live chat is perfect for businesses of all sizes. It's one of the best investments you'll ever make. It's fast and it's an inexpensive way to capture leads, schedule appointments, automate your customer service and so much more. Last, but not least, having a live chat window on your website will provide you a huge advantage over your competitors.
Adding live chat to your website will give you an instantaneous ROI.
If you like this video be sure to give it a BIG Thumbs Up and Subscribe to our YouTube Channel to learn more about Chatbots!
Why Add Live Chat To Website