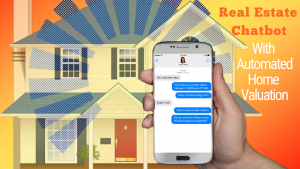 Demo our Real Estate Chatbot with Automated Home Valuation
Prefer to read the Transcript? See below…
If you're a Real Estate Agent looking to increase listings and capture leads, consider adding to your arsenal a Real Estate Chatbot With Automated Home Valuation.
Demo the Chatbot here.
Chat Marketing is a conversation-driven approach to engaging customers, building long-term customer loyalty, and increasing sales.
Our custom Real Estate Chatbot with Automated Home Valuation directs a prospect through obtaining a automated home valuation and then captures their contact info. for the agent to follow up with them.
The open and click through rates on Facebook Messenger are an unbelievable 84.3% for average open rates and 28.3% for average click-through-rates. Contrast that with Email which is a measly 22.87% average open rate and 3.26% average click-through-rate.
GET IN TOUCH:
YouTube
Contact Us
Facebook
Twitter
Pinterest